[dropcaps style='square1′ background_color="]W[/dropcaps]
e've been providing high quality translation and localization services to clients all over the world with proven expertise in various industry sectors since 2002. Some of the largest and most successful brands rely on our superior translation and localization services to ensure they maintain the same high standard in their translated communications as they do in the original language versions.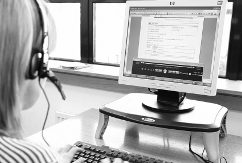 We can handle all your business translation and localization needs. And the more work we do for you, the better we know your requirements. By making the most of cutting edge technology we also can drive down your translation cost. Our professional translation services are undertaken by native, highly qualified professional translators and proofreaders with expertise in your chosen subject or industry sectors.
Launching a software package in overseas markets, needs you to make sure that your software is available in the native language of your target audience. We understand that software translation can be both challenging and time consuming and offer a solution to help you achieve your goals efficiently and effectively.
Professional translators and software localization engineers are the mixture used to provide localized content which is user friendly and ready for global distribution. Software translation service mixture saves you both time and money and delivering fully localized software which will start working for you immediately in your target markets.
Please contact us to discuss the document translation services you need, or enquire for a free quote.
[separator type='transparent' color=" thickness=" up='20' down='20']